About Matulaitis Rehabilitation & Skilled Care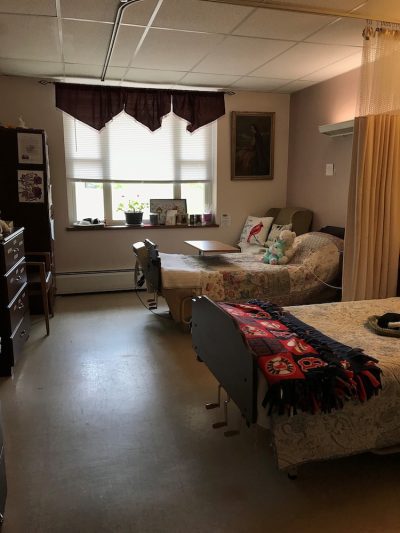 Matulaitis Rehabilitation and Skilled Care is Northeast Connecticut's leading non-profit skilled nursing facility, which has received top national rankings.  According to Medicare's Nursing Home Compare, Matulaitis receives the highest, five-star rating.
At Matulaitis we combine renowned care and exceptional nursing skills with a holistic, person-centered, pro-life approach rooted in Catholic, Christian values.
The restoration of your health and well-being after an illness, operation, or injury can be difficult. This is what we strive to achieve in the shortest amount of time possible in our rehabilitation wing.  There is a beautiful chapel on the resident floor, with stained-glass windows, for Catholic services and quiet reflection.  Our grounds include gardens and scenic views.
Our long term care features attention to the whole person, assuring individualized care for fullness of living, spiritual welfare, and providing a sense of community with enriching programming.  The rooms in this section are spacious, well-furnished private and semi-private, providing for the privacy and comfort of our residents.  The lounges, activity room, and auditorium are available for resident entertainment, therapeutic programs, celebrations, and community programs.
We invite you to learn more about our special smoke-free facility as you consider your own or a loved one's needs.