Matulaitis Rehabilitation & Skilled Care
Resident Life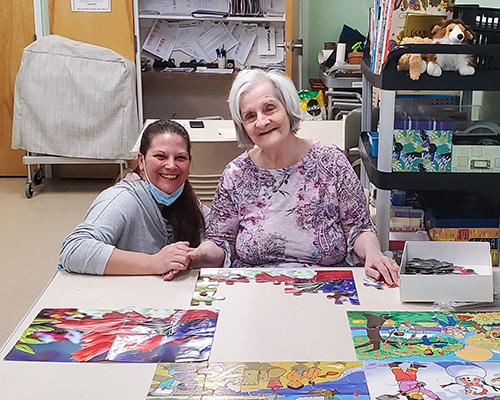 In addition to restoration of health through short-term rehabilitation and skilled care, we provide long term care for chronically ill elderly and disabled individuals.  The decision to pursue a placement at Matulaitis brings with it the opportunity to forge new social connections and assures a continued richness of life.
The therapeutic recreation department oversees enjoyable group and individual recreation and appropriate programming for all residents in addition to monthly meetings of the Resident Council.  Residents enjoy monthly birthday parties, current events discussions, sing-alongs, and morning exercises that seek to improve strength of body and mind, flexibility, and balance in a fun manner. Our facility has recently completed the Music & Memory certification process to bring individualized playlists to residents. Consult the Activities Calendar  for this month's calendar of activities and events.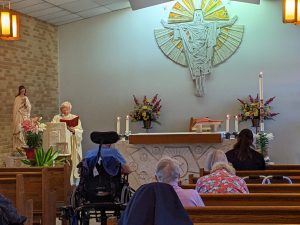 Spiritual/pastoral care is provided to all residents according to their beliefs.  The Marian Fathers, our co-sponsors with the Sisters of the Immaculate Conception, celebrate Mass and administer the Sacraments.  Other Christian services and programs are offered regularly.  The Spiritual Care team members provide spiritual support, prayerful consolations, and practical assistance to residents and their families.  See our Spiritual Care Services brochure and Pastoral Care Newsletter for more information.
The Social Services department supports all residents and, where relevant, their family members in addressing psychological and social issues that may arise in the course of their placement.  Individualized care plans are developed, ensuring that our residents are comfortable and secure during their stay.  Referrals are made for home health care and other services where discharge is the goal.
The Resident Guide provides essential information for residents at Matulaitis.