We share a web version of the program from the annual Memorial Prayer Service held November 7, 2023 and wish you peaceful moments of prayer and remembrance.  View photos from our beautiful remembrance ceremony on our Facebook page.
November 2023 — As the holiday season approaches, if your loved one is a resident and you are wondering about celebrating the holidays in the nursing home setting, please consult our letter "Coping with the Holidays When a Loved One is in a Nursing Home" for helpful suggestions and resources.
Consider joining the Caregiver Support Group! See the flyer to the right for more details. This is an excellent opportunity for any Matulaitis or other community members who may like to find extra support for the significant life challenge (and blessing!) of caregiving.
NEWS IN REVIEW
November 4, 2023: Our Annual Memorial Prayer Service.  Please RSVP if you would like to join us in remembering and honoring residents and friends of Matulaitis Home who passed away in the last year.

Third Annual Blessing of the Bikes!

May 21, 2023 at 2pm with Fr. Allen Alexander, MIC
2/28/23 — We celebrate the life and mourn the passing of our chaplain and dear friend to our Matulaitis community, Fr. Izydor Sadauskas. Fr. Sadauskas served Matulaitis Home for 17 years, an ever-joyful presence around the halls of our home, celebrating daily Mass and bringing the Sacraments and a smile to our residents. In an interview documented in a booklet published on the occasion of celebrating Father's 70 years of ministry with the Salesian congregation, he remarked, "All my life my own ideal was St. John Bosco." St. John Bosco was the founder of the Salesian congregation and Father lived well Don Bosco's exhortation:
"Be devout to Mary Most Holy, pray and be happy, very happy." Fr. Sadauskas radiated joy and brought a smile to every person he met. When making Communion visits to residents, he would always say, "Jesus comes to you – be happy!"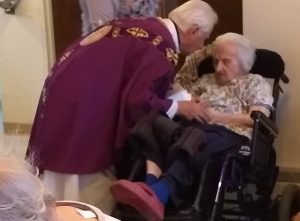 He practiced what he preached, serving with a generous and joyful heart.  Without a doubt, every person he met has a memory of him that brings a smile to their face. May we all learn from his example and live holy lives, bringing joy to those around us.
We share the program for

a Feb. 11, 2021 memorial prayer service with prayers for comfort and peace

.

Grandparent's Day – Sunday, September 13th was commemorated with a pictures campaign. Thank you to all the families who submitted family photos to create ties of love with our resident grandparents
Mother's Day and Father's Day 2020 did not happen as planned. However, our creative staff members and faithful families/Family Council were able to share some love and joy with a drive-by parade as well as a hot dog and beverage celebration with bagpipe soundtrack courtesy of Terry Walsh. Thank you to all who organized, participated in, and supported these unusual celebrations. Thanks also to the East Putnam Fire Station for staging and logistical support, Quiet Corner Cares, Rachel Morrison from Lowes, and CK Greenhouse in Cheshire for flower donations, and Gary Osbrey from WINY for the great coverage, which you can see here: https://www.facebook.com/watch/?v=267618164366078.
While Spring 2020 was an unprecedented time, new initiatives were in full swing at Matulaitis Home. See the patio makeover link at the right to marvel over initial phases of a cognitive garden makeover on our grounds.
CMS Five-Star Rating: Once again, Matulaitis has received the highest, five-star rating from the Centers for Medicare and Medicaid. Congratulations to all of our staff members for their dedication and hard work! See Nursing Home Compare for more information.
What others are saying about Matulaitis Home…
"Everyone working there helped me to start a positive road to recovery. The work you all do is a wonderful blessing to each and every patient/resident you have in your care."
"This facility has the most caring and compassionate people towards an individual—not only to myself, but to others on the floor. They are there for you to get better. I would not have gotten home as fast as I did if it were not for 'everyone' – they all deserve a 'giant A-1' in everything. Highly recommended."
"This facility was beyond wonderful. We would put mom in no other nursing home but Matulaitis. Everyone from aides to nurses, therapists, social services, etc. are great people and always helpful and smiling."
"Our family would like to thank you all for your outstanding care for our mother during the last days of her life! Each and every one of you played a role in helping to care for and get through such a difficult time. Mom said it was like 'heaven.' We are blessed to have such caring people in our community."